mindful formulations
Providing inclusive clinical skincare products that use quality ingredients and deliver real results has always been our priority. For this reason our products are formulated without unnecessary, problematic or harmful ingredients, including the following:
Parabens
Phthalates
Hydroquinone
Mineral Oil
SLS/SLES
Triclosan
Triclocarban
NPEs (Nonylphenol Ethoxylates)
Mercury and mercury compounds
Butoxyethanol
Perfluorinated compounds
Nanoparticles
Oxybenzone
Fragrance*
Plastic microbeads
*Excluding Pumpkin Pore Detox Mask & Scrub
And always cruelty free!
sustainability promise
USRx® is also committed to increasing the sustainability of our packaging. In the near future, 100% of our packaging will contain post-consumer recycled plastic, sugarcane or recycled material.
RETURN TO PAGE
What is it?
On the glow? This exclusive 5-Pack Sponges + Drying Case set is perfect for glowgetters™ who love to take their routine everywhere they go.
After cleansing with your favorite cleansing bar, place your sponge securely in the Drying Case. The case will protect your sponge from any surface bacteria or dirt, and the back is perforated to help your sponge dry before your next use!
Did you lose the sponge that came with your cleansing bar, or is it time for a replacement? No problem! This set comes with 5 extra sponges, so you don't have to worry about running out!
Glow Tip: Time to deep clean your sponge? Pop your dirty sponges into the wash with a load of laundry, air dry or place in your drying case and they'll be like new!
Who Should Use
A must-have for every glowgetter™, especially the traveler who takes their skincare everywhere!
How It Looks/Smells/Feels
Sponges: These round, white sponges have a textured surface that is perfect for providing exfoliation while cleansing.
Drying Case: This cute and compact silicone case comes in a fun teal color. The dimensions are 8 x 3.5 cm (Inside) / 9 x 4.3 cm (Outside). It features a ribbon handle and loop that you can attach to your toiletry travel bag or hang in your shower.
Materials
Sponges: Cellulose
Drying Case: Silicone
Benefits
Sponges are washable
Sponges expand when wet
Drying case is perfect for drying, storing and traveling with sponges
FAQs
Can my drying case be used to store my sponges?
Yes! The drying case can be used to store both your sponges and our new face scrubber.
Are your products tested on animals?
No. We take pride in being a cruelty-free company!
If I have questions about my skin, where can I get help?
Please contact us and we would be happy to provide expert advice!
5-Pack Sponges + Drying Case
$12.00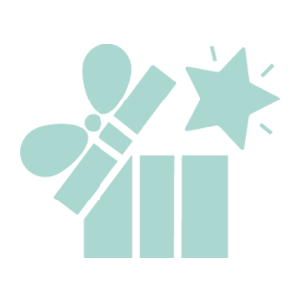 Buy this and earn
12
points.
Click here to join
WHY YOU NEED IT
NEW! Stock up on your cleansing bar sponges and enjoy the convenience of a storage case! Our 5-Pack Sponges + Drying Case are clutch for travel lovers or any glowgetters™ who need somewhere to store and dry their sponges.
---
---